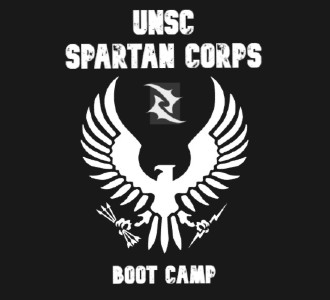 In order to complete the final stage of the enlistment process, Recruitsmust partake in the United Nations Spartan Corps Boot Camp. Boot Camp is the ultimate test for any Recruit. Boot Camp is meant to test your abilities, teamwork, communication, and most importantly, leadership skills. Your Boot Camp grade will not be affected by self-performance.
There are requirements that must be met in order to be eligible for Boot Camp. They are as follows;
~ All Recruits must be enlisted for at least five(5) days before they can request a Boot Camp.
~ All Recruits must have a minimum of 50 credits before Boot Camp can be requested.
~ All Recruits must be able to attend the date they schedule with their Enlistment Officer.
Boot Camp will consist of an undisclosed number of matchmaking and custom games. Over the course of these matches, you are expected to play your best and try your hardest. You must communicate and operate well with your team in order to achieve victory. Remember, the only way to win is with your team. Without them, you are nothing.
NOTE: If Boot Camp is passed,there may be a variable waiting period before any notification is given. Please be patient.
Now that you know what is expected of you, get to work. Upon your completion of Boot Camp, High Command and the Training Officer will assess and evaluate your performance to decide whether you pass or not. If you pass, you will be notified with a Private Message and a post in the Promotions/Demotions forum.
If you fail, there is no limit on how many Boot Camp sessions can be taken, the only exception, there is a 24 hour waiting period between each session.
If you have any questions, message either your Enlistment Officer or a member of High Command