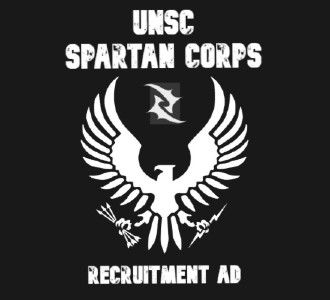 Looking to recruit other Spartans to the Corps? All you need to do is copy and paste the following into other website forums where allowed.
NOTE: Replace RANK NAME with your Corps rank and name
Hello, I am RANK NAME of the UNSC Spartan Corps. We are currently seeking dedicated Spartans to join our ranks. We are a competitive, professional, friendly and organized clan where you can play with skillful like-minded individuals, test your skills on the battlefield, talk a little trash (keeping it friendly of course) and have fun playing some Halo!
At the Spartan Corps we do have a few requirements you must meet in order to be accepted and they are as follows;
1. Must be at least 15 years of age or older
2. Own an Xbox one and functioning microphone
3. Own copies of the Master Chief Collection and Halo 5
4. Access to a computer, smart phone, or tablet
If you meet those requirements and are interested in joining, check out our
[url=https://spartancorps.forumotion.com/]Website[/url]
After creating an account on the website, click on UNSC Field Manual on the left hand side and follow the instructions in the Enlistment section.
Thank you for you taking your time to read this and we look forward to fighting alongside you!